December 3rd 2012, Leeds: Torq and a Yorkshire lad
Two years ago I got introduced to Stars' music. Driving up & down the motorway to Scotland to see my dying dad in the hospice: to keep me company on those long journeys, somebody suggested this band called Stars. I'd never heard of them but it didn't take long to get completely beguiled by their songwriting magnificence, bittersweet lyrics and infectious love for every note of every song they created.

In those dark weeks leading up to his passing, listening to Five Ghosts on repeat probably kept me sane and definitely smiling inside, even if there was a tear on my cheek. No matter how dark the night is, the stars always light the way.

My dad was a Yorkshire lad and even though he retired to Scotland, he never stopped missing the Moors and the fire of a true Northern lad never dimmed.

His funeral was on 3rd December 2010 and so surely fate had a hand in finding myself standing at the front of The Cockpit on 3rd December 2012 to see my heroes in person. I've danced with 75,000 Take That fans at Wembley Stadium but that's nothing on the intimacy, authenticity and utter enjoyment of 100 Stars fans in a tiny club in Leeds, listening to the best band in the world belt out top tune after top tune after top tune.

Stars songs somehow have a magic to them. You can simply listen to a Stars track and love it but when it has accompanied you through life's highs or lows, you experience it on a much deeper level. Like that wave of acknowledgement at the end of Donnie Darko; 'it's OK, I know how you feel'.

So guys & Amy, if you ever get to read this, thank you for a truly memorable and utterly fantastic gig. It was a privilege to be able to share your musical brilliance for just a couple of hours. Whilst the anniversary will come around every year, it'll now be something I can celebrate with a smile, especially as 3rd December is also Amy's birthday.

I wish my dad had been able to listen to Dead Hearts live. He would probably have said in his Yorkshire twang "lass, it were alright" - praise indeed from a hardy Northerner. But I know that it is much, much, much better than that.

Torq, that frequency is still ringing in my ears and I'm loving it!

And has anyone else noticed what a great drummer Pat is?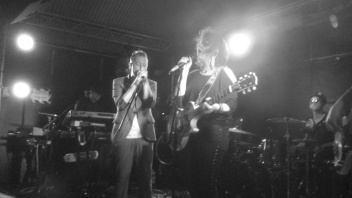 This post was edited 1414 days ago.